HURMA — all processes for recruitment, HR and OKR in one system
Manage the vacancies and candidates alike
Track phone and Skype calls, interviews and test tasks
Monitor the test period and reviewing it
Track the 1:1 meetings, sick leaves, vacations and performance reviews
Manage the convenient messenger notifications about various company events
Objectives and Key Results (OKR)
Benefit from in-depth statistics and planning
Submit an application for connection
Who needs?
For companies
Hurma is a tool that saves your money and improves your company authority among your employees and candidates alike. The recruiting and HR processes are optimized and bring tangible profits, enabling you to predict and avert complications. Your staff receives a convenient interface for interacting with your business, improving your internal marketing an strengthening your brand.
For recruiters and HR
Hurma means safety, reliability and simplicity. Experience firsthand what convenient handling of your daily tasks looks like. All the data and history of interactions with every candidate is stored in a single profile, and you can turn a candidate into an employee in one click!
All confidential data is stored in encrypted form. Only you have access to this
Ideal for Ukrainian IT companies
All HR and recruiting processes are described. Now, interviews, scheduling meetings, 1: 1 and performance reviews are available in one system
Learn for what period you need to start looking for candidates to the desired position. Solve problems in the team in advance. Statistics, graphics and reports
Manage vacations and sick leave
Request and confirmation of vacations and sick leave in one system
Create and publish vacancies instantly
Create and publish vacancies on the corporate website and job search sites in 1 click
Integration with messengers
Inform candidates about vacancies and employees about events in the company using messages in instant messengers
Unified candidate database for your company
The system keeps the entire history of communication with the candidates, if the candidate has not approached you now - you can always contact him later
Performance review automation
The performance review process is now automated and stored in your system. Achieve goals with your employees
HURMA — complete tool for all recruiting and HR-related tasks
Easy to use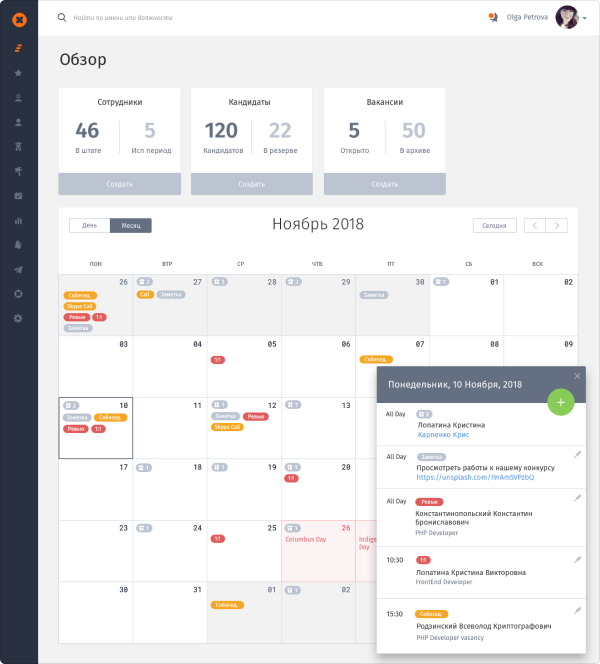 Manage vacancies and candidates easily and quickly
Hurma interface is intuitive and built according to optimal recruiting and HR-management workflows. Create and publish the vacancies, track all the stages of communication with the candidate (from the first contact to passing the test period) and give his profile an employee status with a single click!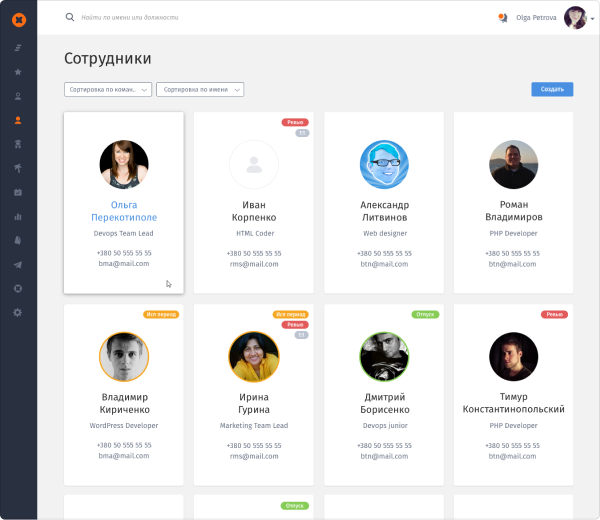 Evaluate the simplicity and convenience of working with employees
Ease of use and simplicity was the main requirement during the Hurma design and implementation. All the key moments of HR-management — tracking sick leaves and day-offs, creation and approval of vacation requests, planning 1:1 meeting and performance reviews — all these features are at your disposal!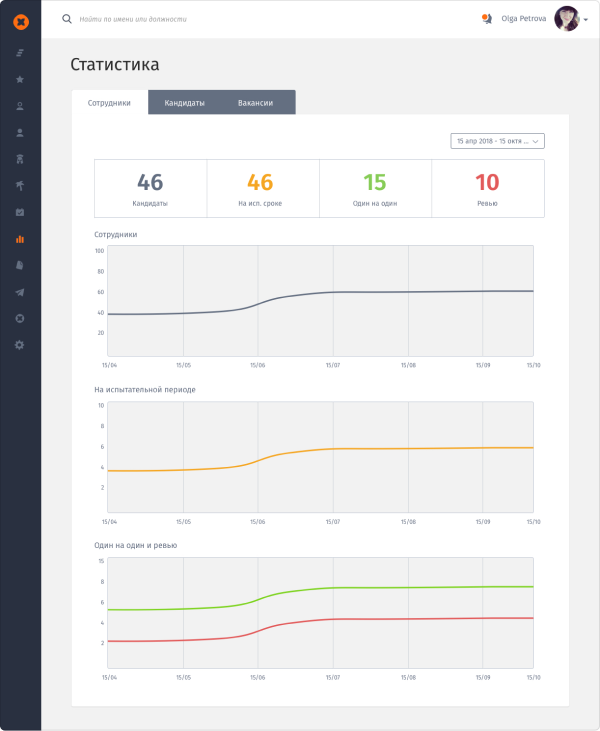 Forecast and plan using statistics
You will now the time needed to find and hire an employee for a certain position, make prognoses concerning your resource usage and plan your capabilities ahead
A unified database of candidates is an awesome feature. You don't need to remember where the contacts of this or that candidate are stored — their profile in your dashboard contains all the data! Even if the candidate was not ready to begin working with your company previously — he or she can be put into reserve and easily contacted in the future. A huge reduction of time and effort spent on maintaining the candidate base up-to-date and relevant!
I was astonished with the ease and convenience of use of Hurma system. One tool has the scheduling of meetings and job interviews, tracking the 1:1 meetings and performance reviews, days off and sick leaves. I now have a single panel for everything I used to store in a bunch of tables, not to mention a stylish interface!
What I liked most when working with Hurma is the ability to analyze the department efficiency and plan many actions ahead. A talent leaving a company must not be the reason for downfall of the project, so knowing the approximate time to start looking for a replacement is essential. Hurma provides such functionality and it's been very helpful for me!
Hurma Roadmap
Continuous feedback — regular polls, queries for employees and teams

In August

Automation of onboarding and adaptation — mass-mailing of follow-ups and emails, check-lists

In August

Exit management — sending the exit interview for and check-lists

In August

Payroll calculation — salary accounting, tracking the probation date, salary recalculation history, salary range or comparatio to market average

In August
Core HR

Welсome interview, Adaptation, Probation, 1:1, Exit interview automation

Company organizational structure

Notifications on the company events

Sync with Google calendar

Statistics on employee kids

HR and recruiting statistics

Automation of onboarding and adaptation — mass-mailing of follow-ups and emails, check-lists

Payroll accounting — payroll calculation, monitorinIn Augusthe probation start date, salary review history, payroll forks and comparatio with average payroll across the industry

Exit management — sending the exit interview for and check-lists

Merit increase / performance-based pay — company-wide salary review, budgeting, bonuses

Employee self-development management — fixation of skills and competencies, monitoring the growth of the competency level and evaluation of professional expertise (Jun, Mid, Senior)

Succession planning — ability to assign successors for employees, planning of career growth for each staff member

Self management

Joint calendar of vacations, days off, sick leaves and other kinds of absense for all employees

Automation of vacation requests issuance and calculation

Employee requests for 1:1 and feedback

Personal profile for each company employee

Personal card for each company employee

Absence management. Functionality improvement

Performance management

Performance review

OKR — Objectives and Key Results, setting up the parameters, cascade of objectives

The ability to synchronize the objectives regularly, mark the progress towards the objectives, write down the comments on the progress during the 1:1 meeting

360 view on selected competencies

9 box matrix (potential/performance)

ATS

Publishing the vacancies to the company website in 1 click

Pool of candidates for a recruiter

Pool of company vacancies

Importing the candidates from other systems (Clever)

Parcing CVs from various file types

Status updates for candidates you work with

Integration with job portal

Automatic follow-ups via e-mail and other mediums

Comfiguring access for HRs, recruiters, managers

LinkedIn integration (ability to apply for a vacancy with a LinkedIn profile)

Gamification

Employee mood monitoring

Continuous feedback — regular polls, queries for employees and teams

Peer2peer recognition — take five and other variants of self-realization
HURMA pricing
Company size

Early birds

valid till June

Lazy birds

Above 1000

Individual conditions
For instance, the system will cost you only $200/mo. for 100 employees.
Hurma - a comfortable and enjoyable vacation planning