Recruitment Process Automation System
How much time do you spend parsing candidates' resumes? How much time do you spend maintaining the base of candidates? How many hours per week does it take to publish the vacancies on all the necessary job portals? How many hours does it take to process incoming CVs? How many tables and records do you need to keep in order to remember everything? You have not much time left for live communication with candidates, right? We know how to automate this routine!
Hurma is a complete solution for HR, recruiting and more. You no longer need to collect and fill CVs manually, Hurma will do it for you. The system can parse CVs and artificial intelligence allows the system to learn and improve this process, making the parsing better and better with each CV processed.
Also, we have a plugin for LinkedIn that allows you to import candidate profiles directly from this social network. The system has a convenient candidate database, from which you can update the applicant profile to an employee with one click and "transfer" him or her to HR after hiring. 
You do not have to worry about posting vacancies on many job search sites, because Hurma is integrated with all the popular Ukrainian job portals (work.ua, rabota.ua, hh.ua, inco.works, dou.ua, djinni.co) and allows you to post vacancies on them in one click directly from the system. Integrations with popular EU and US job boards are underway.
For each vacancy, you see a recruiting funnel and a convenient Kanban board where candidates are sorted by status and you immediately see who needs to receive an offer, whom to meet for an interview, who just sent their resume, and so on.
Automate your recruitment right now!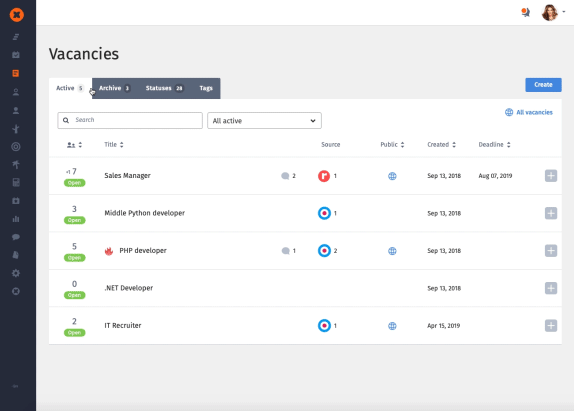 Vacancies
This section contains all the company's vacancies, including archived ones. Here you can create a vacancy, publish it on job portals directly from the system, check the status of vacancies, add tags for convenient filtering and track each candidate hiring stage on the Kanban board.
As soon as a candidate responds to a vacancy, Hurma automatically parses his resume and adds it to the "New" column in the Kanban board. Also, you receive a notification about a new candidate through the chatbot. After that, you can start processing the CV and call the candidate at any time convenient. So, you no longer need to spend precious minutes filling out a CV.
Candidates
This section stores the entire database of candidates. It has convenient filtering and sorting features. You can filter candidates by tags, by vacancy, by expected salary, and even by the recruiter, they are attached to.
In the candidate's profile, you will find all the necessary information about him/her. For example, qualifications, work experience, contacts, attached CV files and their status. Here you can attach files (CV, test task, etc.) to the profile. You can see all the actions that occurred with the candidate's profile, you can attach colleagues responsible for these actions and much, much more.
In addition, you can work with candidate profiles as quickly as possible using the bulk actions available in the system.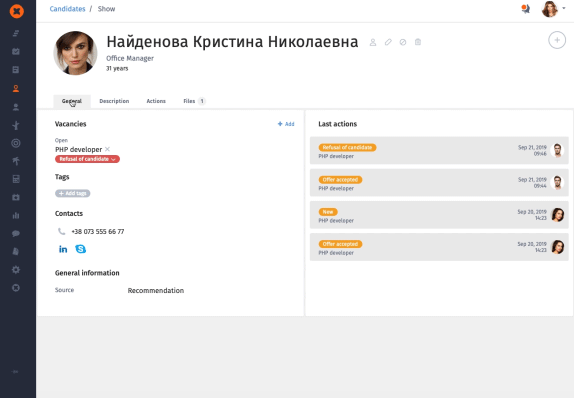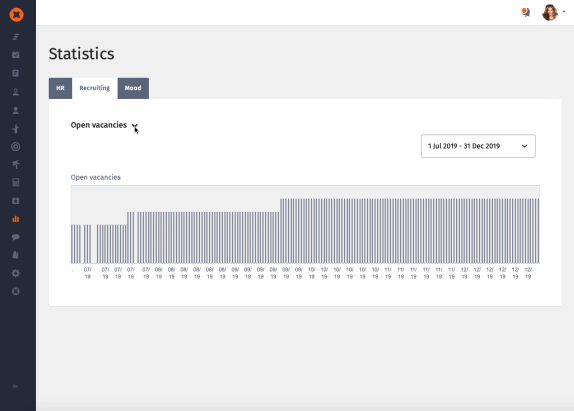 Statistics
The statistics section has a tab for recruitment, where you can see information about vacancies for different periods of time. You no longer need to collect a lot of data for analytics – Hurma collects everything itself in convenient graphs and charts, you just have to analyze the efficiency of using various tools or recruitment channels.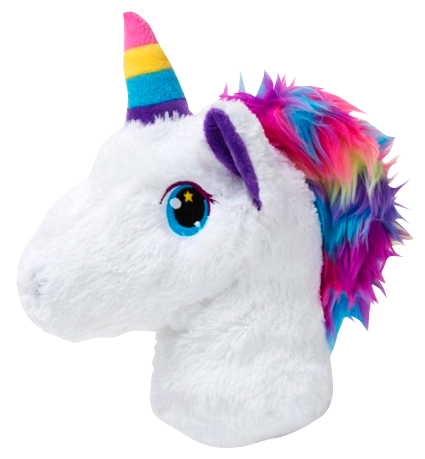 Automate recruitment and change your work and lifestyle!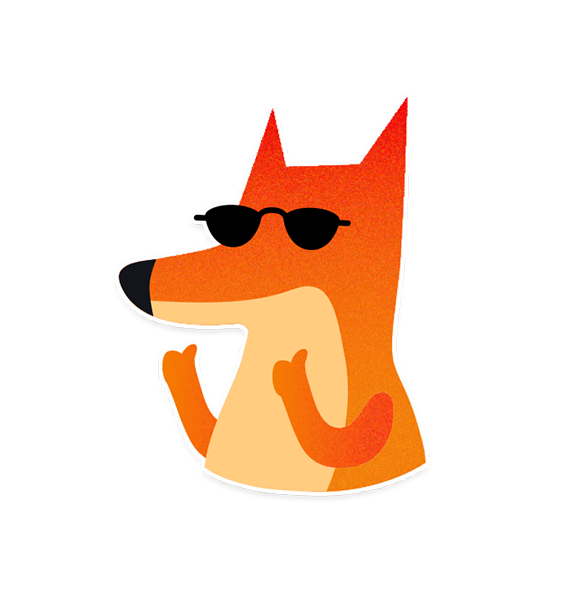 Benefits
fast CV parsing;

integration with job portals;

chatbot notifications;

database of candidates;

Kanban-board;

recruitment funnel;

detailed statistics;

tags and filters;

mass actions.
Recruitment Automation System
Recruiter's day includes two types of tasks. The first group includes more complicated tasks like communicating with a team for finding out requirements for a vacancy or personal communication with a candidate. The second part includes routine tasks like maintaining a candidate database, calling new candidates, filling out a CVs or sending out test tasks.
Complex tasks cannot be automated, for sure, because you need a competent specialist who knows how to communicate with candidates correctly, works on the company's HR brand and works on acquiring the rarest talents for his/her employer. It takes time to deal with these complex tasks and keep in touch with the candidates you want to hunt.
But routine tasks devour this time always postponing the more interesting and complex duties. You can't refuse to do the routine. You can't avoid adding a new candidate to the database, you cannot stop sending vacancies to all job portals. As a result, you spend all your working day on such micro-tasks, instead of doing something really cool. Thus, you should either sacrifice part of the tasks or work with overtime.
Automation is the way out of this endless routine cycle. We created the Hurma System to take care of you and save your time. Therefore, the system parses resumes better and faster every day. Therefore, we integrated it with the most popular Ukrainian job search portals: work.ua, rabota.ua, hh.ua, inco.works, dou.ua, djinni.co – and the work on integrating it with popular EU and US job portals is in full swing. Therefore, we made a plugin for LinkedIn. Therefore, we created a very convenient UI for candidate profile, candidate database, recruiting funnel and Kanban board.
In addition, we have fast and friendly technical support, which is always open to your questions, wishes and suggestions. We have a complete, perfectly working solution for you and we are ready to improve it for you based on your feedback.